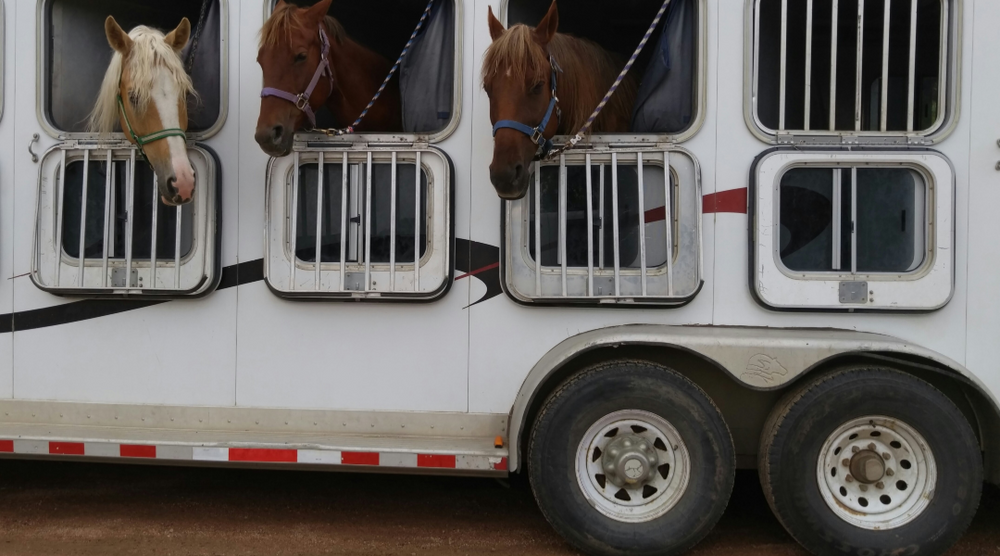 After sitting through the winter, your trailer will be in need of a tune-up before you load up and get on the road. As part of your spring cleaning routine, focus on your trailer to make sure that it's safe for your horses and ready for your first competition of the season.
Check Trailer Structure
Start your inspection with a trailer walk-through. Pull up all floor mats and make sure that your floor is structurally sound. Using a flathead screwdriver, press down into the floor, especially in areas around the bolts. Look for signs of weakness, rot or pitting. If you see any of these issues, replace the floor before loading your horses.
This is also a good time to check your trailer frame for signs of rust. Inspect the welds in your trailer and make sure that doors and butt bars latch securely. Look for signs of leaking by windows.
Next, inspect the trailer ramp. Use a screwdriver to check that any wood in the ramp is still sound. As you raise and lower the ramp, pay attention to whether it's unusually difficult to do this. If the ramp feels stiff and heavy, it could indicate that your ramp springs need to be replaced.
Next, inspect all of the latches on the windows and ramp to verify that they close securely.
Check Lighting
Hitch the trailer to your truck and verify that all of your trailer lights are fully functional. Don't forget to check turn signals, too.
Inspect Tires
Take a careful look at your tires, including your spare. Make sure that your tires still have plenty of tread – if you're not sure how to check this, do the penny test. Hold a penny upside-down in the tread, so that Lincoln's head is buried into the tread. If you can see all of Lincoln's head, your tread is too worn and it's time to replace your tires.
Next, look for signs of rot up along the tire's sidewall. If you see rot, then you'll need to replace your tires. Even if your tires visually look fine, replace them if they're more than four years old.
Finally, check your tire pressure and make sure that all of your tires, including your spare, are properly inflated.
Focus on Brakes
Next, give some extra attention to your trailer brakes. Check that they're functioning and that the brake box connects with your trailer. Make sure that your emergency brake is fully charged and functional. With the trailer hooked up, verify that the trailer brake lights are illuminating fully and that you don't need to replace any bulbs.
Verify Trailer Level
With your trailer hitched up and both it and your truck on level ground, verify that the trailer is riding level in relation to the truck. If it isn't level, you'll need to buy a new trailer ball at a different height to fix the issue. This is particularly important to check if you're planning on towing your trailer with a new vehicle.
Whether you're getting ready to head out on a trail ride or are preparing for your first competition of the season, taking the time to inspect and tune up your trailer can help to keep you and your horses safe. We wish you a great competition season this year!
---
Top trainers, owners and competitors rely on BRL Equine products to help their horses perform at their very best. You can get the same great results! Our all-natural equine nutritional supplements really work... guaranteed or your money back!