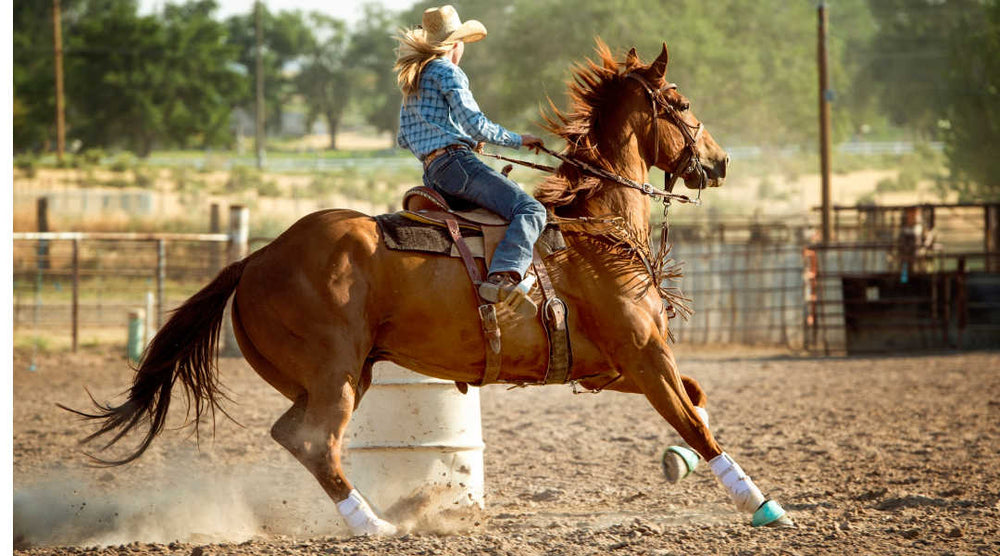 When split seconds matter during a barrel race, your horse's enjoyment of his job can mean the difference between bringing home a check and going home empty-handed. A barrel horse that loves his job will attack the pattern with the same enthusiasm that you have, and he'll dig in hard when heading for home. But between training and racing, it's also possible to sour a good horse, and you'll definitely see a lackluster performance as a result.
Want to keep your barrel horse loving his job and performing at his best? These tips can help.
Vary Your Training Routine
The same drills can get boring, causing your horse to lose both interest and focus. Instead, change up your training routine so that you're still developing skills and conditioning, but in various ways. Incorporate just one or two barrels instead of running the pattern. Focus on body control by weaving poles. Spend a few days each week working on gaining control of your horse's feet in all directions and at all gaits. There are countless ways to get the results that you want without practicing the same thing over and over.
Cross-Train
Just because you're training your barrel horse doesn't mean you have to only focus on barrel racing. Cross-training can be beneficial in many ways. Dabbling in another discipline can give you and your horse a mental break. For instance, head out on a trail ride every so often, or focus on a bit of Western dressage to gain more control over your horse's body. If you have a pond or ocean nearby, swimming  can provide a great workout without the mental or physical pressure of working in the arena.  
Be sure to watch for signs that your horse is getting arena sour. Lack of focus, a poor attitude and overall sluggishness may indicate that you're spending too much time training (though they can also indicate pain or physical issues). Monitor your horse's attitude and performance and be sure to spend some time out of the ring before he hits his limit.
Keep Your Horse Physically Comfortable
Pain and discomfort can make your horse start to dread barrel racing, no matter how much he normally enjoys the activity. That's just one reason why it's important to stay on top of your horse's health. The more you train and compete with your horse, the more you'll find a routine that helps to keep him comfortable and sound. Chiropractic work, massage, cold hosing and plenty of turnout can do a lot to help keep your barrel horse pain-free and happy about his work.
Support Your Horse's Performance
In addition to keeping your barrel horse happy with his job, you can also support his performance with Un-Lock. Un-Lock's Race Performance Muscle Formula features a unique blend of amino acids, electrolytes, and essential vitamins, all designed to boost your horse's performance in his next barrel race. Un-Lock helps to reduce muscle fatigue, so your horse can maintain his top speed longer. It's completely competition-legal and can also help to reduce cramping.
Learn more about Un-Lock and see what it can do for your barrel racer's performance today.
---
Top trainers, owners and competitors rely on BRL Equine products to help their horses perform at their very best. You can get the same great results! Our all-natural equine nutritional supplements really work... guaranteed or your money back!