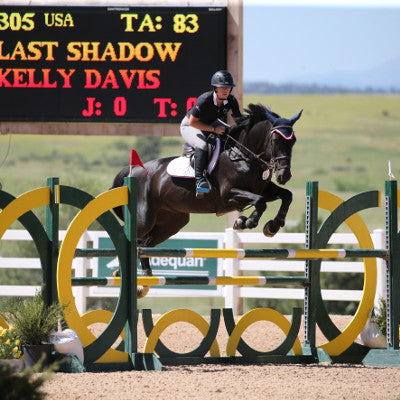 'EQ-Royal Keeps Energy Levels Up and Maintains Energy Levels During Competition'
Serenity Ridge Farm is a private High Performance Show Jumping facility in Omaha, Nebraska. Serenity Ridge Farm (SRFOmaha) focuses on the importing, training, and selling of Performance horses.
The owners of this farm are a mother and daughter team, Sharon Classen and Kelly Davis, that spare no effort in keeping their horses fit and healthy. Sharon is a Certified Human and Equine Physical therapist with 35+ years experience and has worked in areas ranging from college sports teams to the Olympic training center in Colorado. Kelly is a Physical Therapy Tech and assists Sharon in keeping the horses performing their best, while also working as SRF's barn manager.
They also recognize the importance in good nutrition and performance supplements to aid in their horse's health.
Physical Therapist Tech and Barn Manager/ Rider, Kelly Davis at SRFOmaha explains that "At Serenity Ridge we work with high performance show jumpers in the United States and in Ireland. We strive to produce top performing show jumpers. With that comes a very specific diet and training program. We keep them in top shape during the competition season and we typically add in a blood building supplement of some kind while we are at shows. However, ever since we started to use EQ-Royal we have noticed that the horses were able to maintain their energy levels better than anything on the market we have tried. They are still able to compete in the high levels of classes and remain competitive throughout the entirety of a circuit. We definitely recommend it to anyone especially those who compete on the circuit and need their horses energy levels to remain high to preform the best of their abilities. It not only helps keep their energy up but they have sustained energy while on EQ-Royal."
---
Top trainers, owners and competitors rely on BRL Equine products to help their horses perform at their very best. You can get the same great results! Our all-natural equine nutritional supplements really work... guaranteed or your money back!