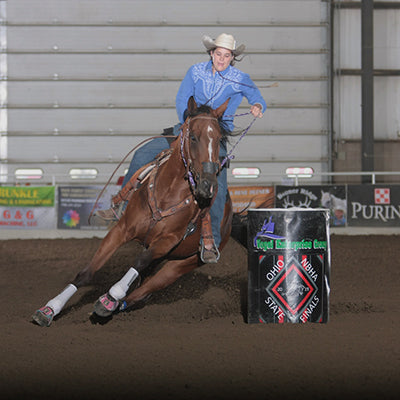 Hillari Combs, now 27, began riding when she was young and soon started showing Western pleasure and competitive trail horses. "We won multiple Grand Champions at our local fair and had the opportunity to show at the Ohio State Fair where we placed Reserve," says Hillari, who hails from Salineville, OH.
In 2007, she switched to barrel racing. Since competing in barrel racing, "we have added many accomplishments as well as encountering some difficulties. In 2012, I was bucked off a horse and fractured my pelvis in three places. It was hard to build up my confidence and begin competing again. I'm really thankful for my horse Bo, who helped me through it all."
Hillari returned to competition and has been competing in 1D/2D levels in both the National Barrel Horse Association (NBHA) and the International Barrel Racing Association (IBRA). In addition to competing, Hillari is also working on a master's degree in biology with a focus in biomechanics, and hoping to enroll in school for physical therapy.
Hillari is currently competing with three horses named Bo, Mo and Tater. Bo (a.k.a. Clues Impressive Bo) is a 14-year-old AQHA gelding she has owned since he was 3 months old. "We have competed together in barrel racing since he was 4 years old and he continues to impress me every day." Mo (a.k.a. Hez Got Mo Money) is a 9-year-old AQHA gelding that she has been competing with for just a year and the newest member, Tater (a.k.a. Ruff Hancock), is a 19-year-old AQHA bay roan gelding that Hillari and Bo competed against for years. "When opportunity arose for me to be able to purchase him, I didn't hesitate," she says. "We placed third at Ohio's NBHA State finals."
In May of 2019, Hillari says Bo began bleeding after competing or practice. He was diagnosed with exercise-induced pulmonary hemorrhage (EIPH) and was given Lasix injections by the veterinarian. "I didn't like giving him an injection every time I took him out, so we started looking into alternatives — and that's when we found BleederShield. The results were amazing!"
Hillari first tried BleederShield for a weekend barrel race, where Bo had to run three days in a row. "As long as he was given BleederShield the night before his race and the morning of, he didn't bleed at all." She explains that, due to Bo being a heavy bleeder, even the Lasix didn't work 100% of the time.
With BleederShield, "his times were back to where they had been before the bleeding started, and I was so happy to have my horse back and healthy enough to compete. I will continue using BleederShield and it will always be kept in my trailer."
Hillari also begun using UnLock with Mo and Tater this year. "It has made a complete difference in the way they compete, to the point that they both ran their fastest times," she says. "It is another staple supplement that will be kept in my barn and my trailer."
Accomplishments:
2018, 2019, 2020 – Qualified for NBHA World Show in Perry, GA
2017 & 2018 – Top 5 in 2D NBHA OH 08 Open Barrel Racing
2017 & 2019 – Placed 3rd in NBHA Ohio State Show
2008 & 2009 – Cowboy Up Youth Rodeo Barrel Racing Reserve Grand Champion
2007 – Cowboy Up Youth Rodeo Barrel Racing Grand Champion
2007 – Cowboy Up Youth Rodeo Pole Bending Reserve Grand Champion 
---
Top trainers, owners and competitors rely on BRL Equine products to help their horses perform at their very best. You can get the same great results! Our all-natural equine nutritional supplements really work... guaranteed or your money back!