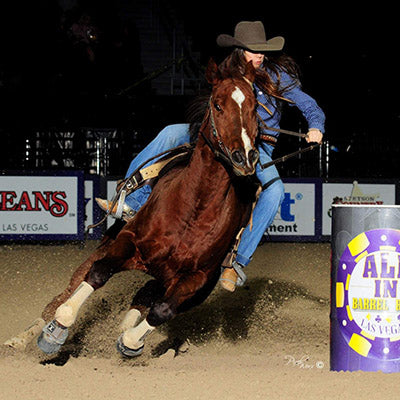 "I have been using EQ-Royal for the past two years now, and it has been a complete game-changer for both me and my horses. They have more energy, stamina, and they've never looked or felt better ... not to mention the recovery time for them after they compete is just amazing.
"Being on the road a lot, it takes a toll on them, and with EQ-Royal and other BRL Equine products I know they are getting what they need and that they will be feeling good and recovered for the next day. Within the first two weeks after I started giving EQ-Royal, my horse was clocking two-tenths faster! It was incredible how BRL Equine products made such a difference in his performance!"
Accomplishments:
2019 – All In Barrel Race 1D Top 10
2018 & 2019 – NBHA Youth Worlds Qualifier
2018 NBHA – Open Worlds Qualifier
2x – Best of the Best Qualifier (2017 & 2018)
2017 – IBRA Youth 1D Champ
2016 – IBRA Open 1D Top 5
2019 – Sherry Cervi Youth Championships First Go Top 10
2018 – Best of the Best Open & Friday Night Lights Top 5
2017 – 4th 1D Open Ohio NBHA State Finals
2017 – Youth & Open 1D winner 1st Go @ NBHA State Finals
2016-17 – All American Quarter Horse Congress Top 15
---
Top trainers, owners and competitors rely on BRL Equine products to help their horses perform at their very best. You can get the same great results! Our all-natural equine nutritional supplements really work... guaranteed or your money back!