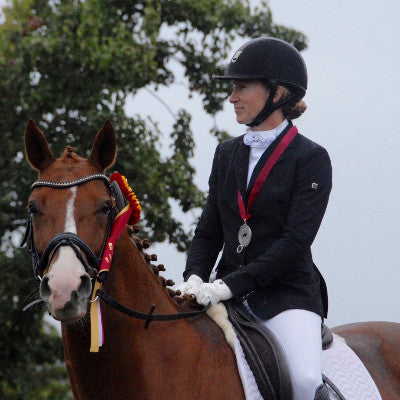 'The secret to elastic and powerful rides, despite increasing workloads'
Sandra Tillmann is an FEI level competitor and trainer currently residing in Seattle, WA. Born and raised in Germany, Sandra moved to Seattle in 2001 with her husband and soon established "Tillmann Dressage". 
Sandra started her equestrian career coming up through the ranks of the German Federations young professional program and participating in Germany's elite training program as a young rider for over 4 years under the watchful eye of Riding Master Paul Beck. Sandra then worked as head trainer of the Trakehner Stud farm Birkenstein and as a member of the Rhineland Bereiter team. These positions gave her the opportunity to start and develop many talented horses and prepare horses for elite auctions, mare and stallion performance tests, and sales.
During her time in Germany, Sandra gained an extensive amount of knowledge in training horses while also acquiring her Bachelor and Masters degrees in Sports Science through the Department of Equestrian Research, German Sports University Cologne.

Sandra has a broad understanding and feel for establishing an excellent training foundation on many different types of horses and temperaments. As a certified Dressage and Jumping instructor, holding a License from the Federation Equestre Nationale, Sandra enjoys working with all breeds and levels of horses, from young horses to Grand Prix, and all levels of riders, from inexperienced students to FEI Professionals, provided they all have an abundant "curiosity for learning."
Sandra currently competes her personal Hanoverian gelding, Weserbogan II. Weserbogan II, also known as Wes, was purchased by Sandra in 2016 as a very green prospect. She explains "Wes was cold backed and is still very shy. He had some training flaws that I knew would require to go back to the basics until I can proceed with his further development". Sandra decided to start getting Wes some show experience at training and 1st level over 2017, focusing on bonding and variety in his training. She says "We got Highpoint of the show twice, galloped through the ocean waters at the beach, jumped and evented, took a pasture break and just finished our first seasons as reserve Champions at the Region 6 Championships". 
Sandra was first introduced to BRL Equine Nutrition in early 2018. After trying Un-Lock on Wes, Sandra found him recovering quickly after training and feeling more powerful in his tests. She explains "I have been using Un-Lock for about three months now and am really excited about how Wes is performing. It helps him to recover faster from his increasing work loads and he feels more elastic and powerful during our training sessions. I personally prefer the powder as a daily supplement but I love that I can use the paste as an extra booster before a really hard work or show".
Accomplishments:
USDF bronze and silver medalist
Published: 

Tillmann, S., (1998) Untersuchungen zu ausgewaehlten sportmotorischen Faehigkeiten im Reitsport (Investigations of selected motor skills in Equestrian Sports) Master Thesis October 1997.

TILLMANN DRESSAGE, LLC Training, international sales & consulting.

CAVALLIS Germany, LLC March 2005 - 2012 Head Trainer and Consultant.

SANDRA TILLMANN DRESSAGE January 2004-March 2005 KGF Equestrian Center, Seattle, WA. 

Head Trainer Dressage and Educational Program Director.
Head Dressage Trainer July 2002- October 2003 Haute Ecole, Academy for Classical Dressage, Issaquah, WA
Dressage Trainer May 1995 - August 1998 at the Riding Organization Hehn E.V, Moenchengladbach, Germany where 11 students were awarded their German bronze medal.
Head rider and trainer July 1991- September 1997 Trakehner Stud Birkenstein, Roth, Germany. Showing the stud's stallions at national and international competitions. Winner of the Luxembourg Trakehner breeding Championships.
Member of the Rhineland Bereiter Team June 1990- September 1992 Rhineland Horse Association, Bonn, Germany. Preparing and showing horses represented by the Rhineland Association at elite Auctions, sales events, and mare performance tests.
---
Top trainers, owners and competitors rely on BRL Equine products to help their horses perform at their very best. You can get the same great results! Our all-natural equine nutritional supplements really work... guaranteed or your money back!