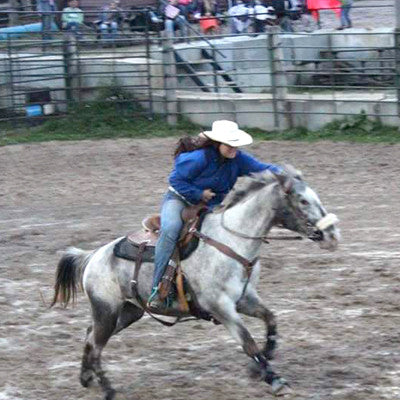 EQ-Royal for 'Awesome Rodeo Runs and Long Miles'
Allison Kraft has been competing in barrel racing and showing for as long as she can remember.
"I grew up around horses and have competed in 4-H, open shows, hunter/jumper, draft horse shows, and barrel racing," she explains.
Kraft lives on Birchwick Park farm in Joice, IA, with husband Tony, daughters Shiann and Dakotah, and stepdaughters Paiten and Veronica. "We have a few stallions we stand," says Kraft, "and we raise a few foals each year."
Kraft, who says her ultimate goal is to be able barrel race full-time, also works as a groundskeeper at The Lodge Resort in Forest City, IA. But apparently raising horses, four daughters, competing in barrel-racing and working as a groundskeeper aren't enough for this energetic horsewoman: She also helps veterans through the Semper FI Fund, which provides immediate financial assistance and lifetime support to post-9/11 wounded as well as critically ill and injured members of the U.S. Armed Forces. In addition to fundraising, "we find out what veterans need help with and locate a facility or person that can directly assist them."
Allison acquired her horse Charlie from cowboy Tony Jones; Charlie was one of two horses Jones rode from Ft. Pierre, SD, to Washington, D.C., to bring awareness to veterans issues and to raise money for the Semper Fi Fund. Charlie has continued to draw attention to the plight of vets through his own Facebook page.
"When people see Charlie, or one of his horsey friends, they think of our veterans and remember what they have done and are doing," says Kraft.
In early 2017 Allison joined the Cerro Gordo County Mounted Search and Rescue team, which conducts extensive training in the field. "We are called out when the terrain or area doesn't allow ATVs, or when ATVs would interfere with K-9 units that are already out."
When asked how EQ-Royal has helped her horses, Kraft says that "the biggest thing I noticed was an increase in stamina and focus. My horses need to be able to move from the fast-paced arena life to spending the day saddled, covering varying terrain."
Kraft has 15 horses on her farm at any given time. She says her top horses are Under Fire, a 2006 appaloosa mare and the backbone of her barrel horses; and Crane Lodge, a 2009 thoroughbred gelding sired by A.P Indy, who won the Belmont Stakes and is the oldest living winner of the Breeders' Cup Classic.
"Crane Lodge retired from racing in 2016 and has been doing great in retraining," she adds. "I adopted him from HART."
Kraft says she finds that EQ-Royal "gives my horses the energy they need to make awesome runs at rodeos and the stamina they need for the long miles they put in for search and rescue. EQ-Royal keeps them focused and ready to go no matter what our destination — whether it's the arena or back country, my horses are ready to handle it."
Accomplishments
Professional barrel tacer
Member of the Cerro Gordo County mounted search and rescue team
Qualified for the WSCA Championship Show
Qualified multiple years for the Circle C Rodeo Association finals
KSC series high point championship
Qualified for the run for the bonus world finals in Lincoln, NE, in both the open race and bonus race
Qualified for the regional Sun Run in Guthrie, OK
---
Top trainers, owners and competitors rely on BRL Equine products to help their horses perform at their very best. You can get the same great results! Our all-natural equine nutritional supplements really work... guaranteed or your money back!