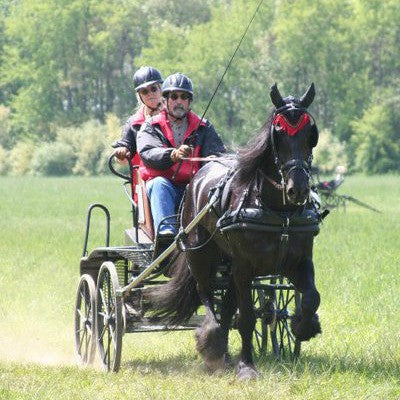 Turbo Fresians Show Enhanced Endurance
Paul and Maureen Grippa have shared their harness driving passion for many years. The Grippas own Blackrock Stables in North Carolina, where they raised two Turbo Friesian foals, Dark Tys and Dark Uke.
Horses are a way of life at Blackrock Stables. The Grippas, who compete as a couple with their Turbo Friesians, take care of the horses and the property themselves. "Thanks to my husband's pursuit of a hobby that we could share, we've been together for 35 years," says Maureen.
"We compete in combined driving events," she adds, "which are the equivalent of three-day events using horse-drawn carriages. We have enjoyed recent success adding EQ-Royal to our competition horses' diet as directed.
"EQ-Royal is the only proven supplement to naturally improve your horse's red blood cell production. Our horses' endurance has improved and their recovery after a marathon event is exactly where it should be."
Maureen and Paul say they would recommend EQ-Royal blood-building supplement to competitors who are considering selling their horses because they don't have the required energy level. "It is far easier to solve the problem than trying to find a more suitable horse," she points out, "especially if the one you have already invested training dollars in is fully capable once using this supplement!"
---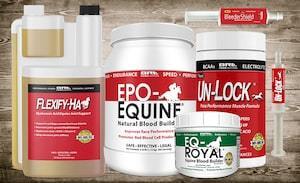 Top trainers, owners and competitors rely on BRL Equine products to help their horses perform at their very best. You can get the same great results! Our all-natural equine nutritional supplements really work... guaranteed or your money back!