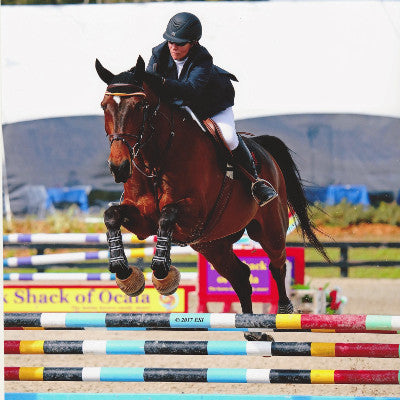 "Un-Lock Gives Show Jumper 360 Degree Improvement in Muscle Condition, Tone, and Recovery"
Lisa Clements is a show jumper originally from New Jersey, but has recently made the Tryon, NC area her home. She grew up riding from a young age, competing in Junior Jumpers and Medal Maclay EQ events. 
Her riding education includes clinics and training with notable trainers, including George Morris, Frank Chapot, Leo Conroy and Nona Garson. 
Lisa's equine career has stretched from breeding, to Lippizan shows, hunters, dressage and show jumping. 
She now competes on her 11-year-old, 18.2 hand Holsteiner gelding, Royal Robin. Barn named "Robin." Lisa purchased Robin as an untrained 6 year old and has completed all of his training herself. In that time, they have added a number of awards to their belts, including two 2017 HITS circuit championships, AA Jumper Holsteiner Horse of the year, and four USEF Zone Championship awards in both Hunters and Jumpers. She also plans to move up to 1.2 meter jumpers this year with Un-Lock in their repertoire.
At the end of 2017, Lisa purchased back a German Oldenburg mare named Zahnya that she had bred during her breeding career. Lisa plans on competing Zahnya in dressage before breeding her in the future. 
Aside from her show jumping career, Lisa also enjoys fox hunting and going on hunter paces with her horses. Her current location near the Tryon International Equestrian Center sits her in the perfect place to enjoy high-level competition, but also be able to head out with the Tryon Hounds or the Green Creek Hounds for adventures outside the arena.
Lisa first tried BRL supplements in her search for something that would give Robin a little more energy in the ring, without flaring up his allergies. She explains that "Robin has a history of allergies, and running out of gas/getting tired." After only a couple weeks on Un-Lock powder daily, Lisa noticed an astounding difference in her horse. She explained that "he felt confident and full of power riding while his physical appearance did a 360 improvement in muscle condition and tone." Lisa says "his topline filled in with muscle and his shoulder and hip showed definition and strength that just wasn't there a few months ago." She also explains how his "muscle recovery time improved drastically."
With these incredible results, Lisa plans on starting her mare, Zahnya, on Un-Lock and EQ-Royal. 
Accomplishments:
USEF Silver Stirrup Horse of the Year Zone 4 for A/A Jumpers, A/O Hunters 3'3" & 3'6"
USEF Silver Stirrup State Champion A/A Jumpers
AHHA Horse of the Year A/A Jumpers
AHHA Horse of the Year Reserve Champion A/O Hunters
SCHJA Year End Champion A/A Jumpers
HITS 1st half, 2nd half and full circuit Champion Adult Eq. & Reserve A/A Jumpers
USEF Breeder of the year 2007
Bred Dressage at Devon Trakehner Champion Mare
Bred Multiple USEF and Breed Registry National Champions
---
Top trainers, owners and competitors rely on BRL Equine products to help their horses perform at their very best. You can get the same great results! Our all-natural equine nutritional supplements really work... guaranteed or your money back!