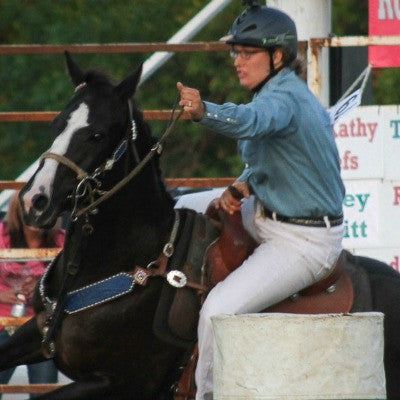 Improved Stamina and Focus in 30 Days
"I have ridden horses my whole life," says Kuleen Smith, a 22-year-old cowgirl from northern Iowa. Kuleen started showing with the 4H Club and then at local open shows. In 2013, she started her first season with the Circle C Rodeo and finished Reserve in senior barrels. The following year, she won senior barrels. In 2015 she moved up to novice and continued her winning streak, taking the senior barrels competition prize for a third time. 

"In 2016 I started the year as a rookie in pro barrels. It started off rough with a green rodeo horse, but we got it together and won reserve pro barrels!"
This June the ambitious young Iowa cowgirl says she plans to run pro barrels again, as well as competing in IRCA [Iowa Rodeo Cowboys Association] rodeos and bonus race finals in Lincoln, NE. For next year she plans to run IRCA full-time, with her sights set on qualifying for the bonus race again.
Kuleen says her winning team deserves the very best to keep them improving and running strong. "I love EQ-Royal because my horses run harder, feel better and look amazing!" she exclaims. "The Un-Lock paste is the best pre- and post-run paste I've used. My horses have better stamina and better focus on the job they are there to do. They also seem to feel better even after a run, thanks to the Un-Lock paste."
Kuleen saw results after only a month using the nutritional supplements. "My horses love the flavor too," she adds. "They eat it right up. My gelding almost sucks it out of the tube!
"I'm very grateful to be a part of this team," Kuleen adds. "My horses have never looked or felt this great. You won't regret putting EQ-Royal and Un-Lock in your horse's diet."
Accomplishments:
2013 Reserve SR Barrels
2013 Rolfe Rodeo Buckle Winner
2014 Champion SR barrels
2015 Champion Novice Barrels
2015 Rolfe Rodeo Buckle Winner
2016 C.C.R.A. Reserve Champion Pro Barrels
2016 Rolfe Rodeo Winner
---
Top trainers, owners and competitors rely on BRL Equine products to help their horses perform at their very best. You can get the same great results! Our all-natural equine nutritional supplements really work... guaranteed or your money back!