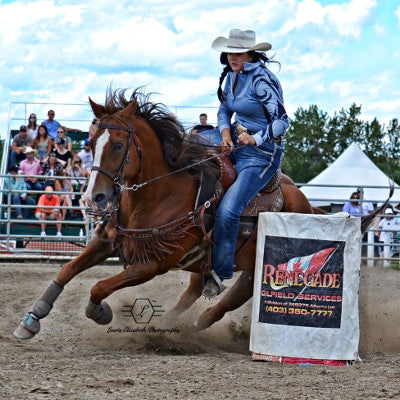 EQ-Royal provides barrel racer with focused energy and stamina
Kelli McLeod is a barrel racer from Central Alberta where she operates her family's riding arena. Kelli has had experience riding competitively in many disciplines over the last 12 years but found her true calling in rodeo. She currently competes two horses and has two younger 2019 futurity prospect horses in training.
Now her backup horse, SR Two Frost is an 18 year old registered APHA gelding that Kelli had been running since 2011. SR Two Frost, also known as Fly, gave Kelli her start in rodeo and carried her though high school and college competitions. Kelli explains "I owe this horse the world".
Kelli's main competition horse right now is CSE Royal Rebel, also known as Hudson. Hudson is an 11 year old AQHA gelding that she has been running for 2 years. Kelli and Hudson compete in open barrel races and amateur rodeos. 
The two 2019 futurity prospects Kelli has in training are both four year old AQHA geldings sired by Famous Bugs.
While home during the off-season or in between competitions Kelli spends her time training and giving riding lessons as a CHA Level 2 English and Western Instructor. 
Kelli first started using BRL Equine Nutrition supplements in 2017 and quickly noticed the improvement in her horse's performance. She explains that "After starting my rodeo horse on EQ-Royal last year I noticed within the first month how much faster he was recovering after runs and that he felt just as strong the second or third day on the road as he had on the first. I was impressed with the focused energy he had, the stamina and his overall performance. EQ-Royal is a safe and effective way to help my horses reach their full potential". 
"Barrel Racing is a fast paced speed event, but the real tough part is keeping your horse sound, healthy and happy while spending every weekend on the road. I expect my horses to perform to the best of their abilities but I also try to give them every extra advantage I can, BRL Equine Nutrition helps me do that" 
Accomplishments:
2017 1D Delburne Spring Dash Reserve Champion

2017 2D Sharon Ferguson Memorial Barrel Racing Champion

2016 Canadian College Finals Rodeo Pole Bending Champion & Average Champion

2015 Canadian College Finals Rodeo Pole Bending Reserve Champion & Average Champion

2015 Temple Intercollegiate Rodeo Pole Bending Champion

2015 Can-Am Barrel Racing High Point Champion & Reserve Champion

2014 Canadian College Finals Rodeo Qualifier

2014 University of Saskatchewan Pole Bending Champion

2012-2016 Alberta Barrel Racing Finals Short Go Qualifier on multiple horses

2012 Canadian High School Rodeo Finals Qualifier

2012 SilverState International Rodeo Qualifier in Winnemucca, NV

2012 British Columbia High School Rodeo Finalist
---
Top trainers, owners and competitors rely on BRL Equine products to help their horses perform at their very best. You can get the same great results! Our all-natural equine nutritional supplements really work... guaranteed or your money back!