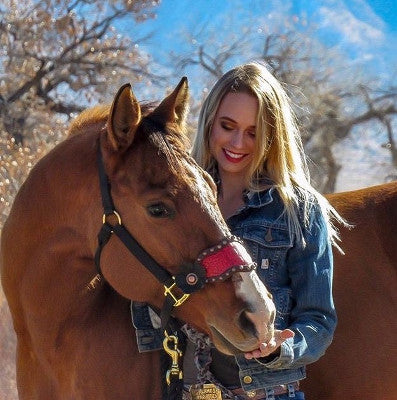 BRL Equine Supplements keep horse and rider competing their best
Jesyca Bogan is a 26 year old WPRA Barrel Racer from New Mexico. Jesyca began riding at the young age of 5 and spent 18 years training under a Grand Prix Show Jumping trainer before switching disciplines and becoming hooked on barrel racing.
Jesyca currently competes on her 11 year old Quarter Horse mare, Hemi. Jesyca explains that "my barrel horse, Hemi, and I have a very intense rodeo schedule throughout the year. Since Hemi is the only horse I compete on, keeping her healthy and feeling her best is incredibly important to our success".
In Jesyca's search for a supplement to keep Hemi working and competing at her best, despite coming back into work after winter breaks, she started on BRL Equine's EQ-Royal and Un-Lock supplements. She explains "I started her on the BRL products after a break through the winter. Getting a horse back into peak physical condition as fast as possible without them getting body sore can be tricky. The combination of Un-Lock and EQ-Royal not only helped me get Hemi back into shape, but she is now in the best shape of her life. Because I have only one performance horse, getting the most out of every workout is crucial. Thanks to BRL Equine, I don't worry about my horse getting muscle sore or cramping. Even after long trailer rides, Hemi steps off the trailer stress free and ready to perform".
"In a sport where the difference between walking away with a paycheck and leaving empty handed is just a fraction of a second, it's important to give yourself every advantage." -Jesyca Bogan
"My pre-run supplement routine for my horse and myself is vital. Before every run, Hemi gets a tube of Un-Lock Paste. Since using the Un-Lock Paste before runs, Hemi's speed, stamina and recovery time has improved. When competing in the southwestern states in the summer, dehydration and crmping are a big concern. With Un-Lock, I can train and be completely worry free."
Not only does Jesyca love BRL Equine supplements for her horse, she also uses BRL's human line for herself. She explains "Barrel racing is a team sport. The jockey is just as much an athlete as the horse. That's why I love that BRL makes products for riders too! My pre-run routine includes a couple scoops of Invigor8 and TriFuel. I don't like to eat a big meal before a run but I don't do my best if I'm hungry. Invigor8 is the perfect snack to give me energy but doesn't weigh me down. I take TriFuel at the same time Hemi gets her Un-Lock Paste. I have noticed tremendous improvements in my performance since I started taking TriFuel before runs. I am able to get past any nervousness, hone my mental focus, and my timing is spot on! Both products taste amazing too!"
"Since I started using BRL Equine Supplements, I have noticed exponential improvements in both my horse, and myself. My horse and I are a team. We train together, travel together, compete together, and thanks to BRL Equine, we take our supplements together too."
---
Top trainers, owners and competitors rely on BRL Equine products to help their horses perform at their very best. You can get the same great results! Our all-natural equine nutritional supplements really work... guaranteed or your money back!