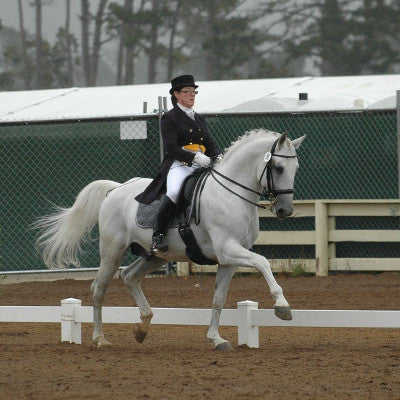 'BRL Equine Nutrition supplements improve health for both horses and riders'
Jennifer Roth is a USEF "S" Dressage judge and FEI Trainer currently located in Tryon, NC, after moving from her longtime training facility in Carmel Valley, CA. She has been training and competing at FEI levels for over 35 years.
Jennifer was a Lipizzan breeder for nearly 25 years. She still has a few of these incredible horses today. Two of them are stallions, Siglavy Angelica II and Maestoso II Favoressa III. Ages 27 and 28, these two stunning horses had begun to show their age by dropping weight, muscle health, and top-line. 
Jennifer started using BRL Equine Nutrition products after a longtime search for a high-quality protein shake mix. She found BRL's Invigor8 Superfood Shake and instantly fell in love with the nutritional benefits. She later discovered BRL Equine's Un-Lock supplement, and knew it could help her horses maintain top-line and muscle in their old age. She explains "I started giving my horses the Un-Lock supplement in May 2017. At the same time I had also started taking daily the Invigor8 protein powder and Wildberry Trifuel with my smoothies.
"My older horses picked up weight and I lost weight! Both my horses and I seem to have more energy and alertness. I lost 20 pounds with ease with the Invigor8 and the ingredients are of the highest quality!"
"Jennifer is passionate about sharing her knowledge and seeks to teach the language of dressage passed on to her by some of the foremost masters in the world. Jennifer is very dedicated and devoted to the sport of dressage as well as helping her clients achieve their riding goals."A long-time trainer of Classical Dressage, Jennifer has hosted various clinics with Andreas Hausberger, Chief Rider of the Vienna Spanish Riding School for the last 17 years. 
Accomplishments:
USEF "S" Dressage Judge

Won numerous CDS/USDF Regional and National horse of the year titles 

Students for decades have won many CDS, USDF titles, horse of the year, NAJYRC competitions on self-trained horses, Champion and Reserve Champion in USEF Dressage Seat Equitation medal finals.

Over 35 years of training experience at FEI levels
---
Top trainers, owners and competitors rely on BRL Equine products to help their horses perform at their very best. You can get the same great results! Our all-natural equine nutritional supplements really work... guaranteed or your money back!