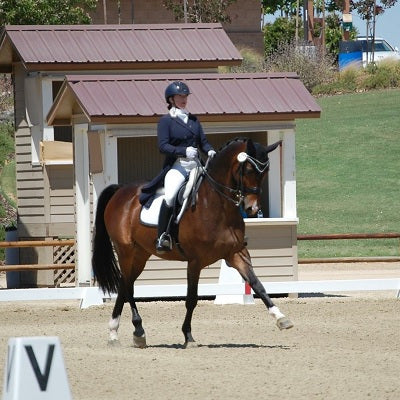 'BRL Supplements Address Individual Needs' 
Jaclyn Meinen is a Grand Prix Dressage trainer and competitor with numerous outstanding qualifying FEI scores and awards at USDF shows.
Jaclyn, who now lives in Woodside, CA, grew up in Southern California and has been on horses as far back as she can remember, beginning when her grandparents took her each Saturday to the local ponies. A few years passed before she began to beg her parents to allow her to attend horse camp at a nearby stable. From that time on she was hooked and began working for a local trainer to earn her Saturday rides. After attending her first dressage show on a leased horse, her parents could see that she was passionate about this sport and there was no going back, so they gave her their full support and encouragement.  
Three horses later, she set her goal on international competition, culminating in being on the 2007 NAJYRC Gold Medal Team in Lexington, Virginia. Shortly after returning from NAJYRC, Jaclyn worked at a local breeding farm training and marketing horses. That experience led, in 2010, to starting her own full-service equestrian business, Jaclyn Meinen Dressage, offering dressage instruction, training, lodging and care for horses, including the sale and purchase of dressage horses.
Jaclyn's extensive experience in all aspects of the dressage community, especially starting and developing horses and riders, is evidenced by their successes, often earning high point awards, as well as winning or placing in their classes. One of the most important aspects of these successes has been nutrition, for herself, her horses, her clients and for her clients' horses.
Jaclyn has been especially impressed with how EQ-Royal has addressed the individual needs of her horses. Of the three she is currently campaigning, the youngest ones have been more focused and confident, as well as much calmer at shows. The more seasoned horse, Rivendall, has been working hard and she can see that he has become more muscular, as well as having increased stamina and energy. It is evident in all three horses that recovery from those long weekend competitions has been quicker. Overall, EQ-Royal has enhanced the performance of all her horses in training and in competition, earning the highest scores at several recent shows and having all three qualify for the upcoming Great American Insurance Group/USDF Regional Championships. She gives credit to EQ-Royal for increasing endurance during training and for that extra boost needed to meet the challenges they face to give their top performances.
Jaclyn states, "I cannot be more complimentary of BRL products and my horses are the proof. BRL truly helps our team be the best athletes they can be. Un-Lock paste is essential for all of my horses — Rivendell, Herbstliebe and Edison — to keep them at their peak levels of performance."
Jaclyn says her goal for herself, her clients, and the horses in her barn is to be the best they can be. She says that she is excited about the future and that BRL will always be an important part of the nutrition program at Jaclyn Meinen Dressage.
Major Awards
NAJYRC GOLD MEDALIST (2007)
USDF Bronze Medal in 2007
USDF Silver Medal in 2007
USDF Silver Freestyle Bar in 2011
USDF Gold Medal in 2012
A Few Experiences of Note
June 2017 ~ selected for the USDF Developing Rider Program
January 2016 ~ Selected to attend the USDF/USEF Young Rider Graduate Program in West Palm Beach, FL; also selected to receive a grant from The Dressage Foundation for these events
2010 to 2014 ~ Trained and successfully competed her competition horse, Klickitat, from Third Level to Grand Prix
May 2012 ~ qualified and was invited to compete in the 2011/2012 USEF National Young Adult Brentina Cup
2008 to 2012 ~ Trained and successfully competed her competition horse, Rivaal, from First Level to Grand Prix
---
Top trainers, owners and competitors rely on BRL Equine products to help their horses perform at their very best. You can get the same great results! Our all-natural equine nutritional supplements really work... guaranteed or your money back!