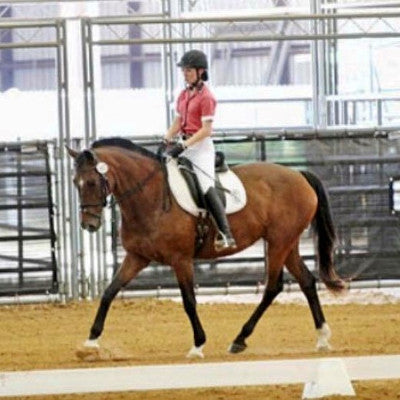 Natural supplements for boosted performance 
Erin McNew is a 20-year-old professional rider and trainer located in Whitney, Texas where she is owner and head trainer of ECM Equestrian, located at her family farm. She began riding as a hunter jumper and moved over to dressage at a young age. She now specializes in dressage, western dressage, ranch riding, and Arabian breed shows.
Erin is also a blogging mentor, writer, and life coach. She is currently working on becoming a fitness instructor and is natural health certified. She has a passion for training horses and loves working with her clients of all ages and seeing them succeed. Erin has ridden in the NAJYRC in attempts of qualifying for Kentucky on a sponsored mount and has attended many clinics with international riders. She has worked as an equine vet-tech for six years and as a volunteer for a therapeutic riding program where she trained school horses and helped special needs students with injuries and PTSD gain strength and confidence through riding. Erin helped her local USDF GMO by serving as president of the Central Texas Dressage Society Young Rider Board, has attended, and spoke in many speaking engagements. She has also taught at McLennan Community College in Waco, Texas where she gave lessons to all disciplines and ages. 
Erin currently has three horses; Netzoye HOT- a 17.2 hand PRE gelding, MM EI Alazon- a young Arabian Stallion, and Journeys End- an E=Oldenburg mare. 
Netzoye HOT, barn named 'Zozo', has won many titles including placing 11th in the nation. Erin is schooling Zozo at 4th level and plans to show him at third this year.  
MM El Alazon is Erin's young stallion with a massive personality she is bringing up the levels of dressage, western dressage, and competing in Arabian breed shows with. He has won many titles including over three Top Ten Finalists placings for International and Signature colts at the Scottsdale Arabian Show in Scottsdale Arizona, Reserve Champion in Scottsdale, two Top 5's at the Arabian Breeders World Cup in Las Vegas, Nevada, Region 9 Reserve Champion, and Canadian National Reserve Champion. 
Journeys End, barn named 'Anna', is Erin's retired show horse who is now used as a lesson horse. Erin picked her up off a rough stock ranch when she was about to be shipped to Mexico and rehabilitated her. Since then Anna has won 13th in Region 9 Championships in Training level, 8th place at the Dressage Seat Semi-Finals at the same regionals, two dressage seat championships, and multiple high points and small winnings at schooling and rated shows.
In her search for natural performance supplements, Erin found BRL Equine Nutrition and started using EQ-Royal. She explains "I have been astounded and so pleased at the results that BRL Nutrition has provided for not only my horses but myself as well! EQ-Royal has boosted my horse's performance and keeps them alert and focused on their job at hand (without the on edge nervousness some supplements give). I use this on all of my show horses whether it is for my clients or my own!"
 "You must become the athlete that the horse already is" -Erin McNew
Erin also uses EPO-Boost and Tri-Fuel for herself. As a fitness and health advocator, Erin explains "Many people use EPO-Boost for riding but I also love to use it at the gym, on long training days at the barn, and at shows! It is like a pre-workout to me without the harsh side effects and leaves me focused, energetic, and feeling strong every time I take it! I also love using Tri-Fuel. I use it as my pre-  and post-workout and my pre-show drink. It keeps me calm and focused going into the ring, and helps my body heal quicker from my workouts! I am so happy that I have found supplements that work for both my horses and I along with a business that genuinely loves to see their customers succeed!"
Accomplishments:
Training Level Performance

Award

First Level Performance Award
Elementary Dressage Seat Award
Accomplished Level Dressage Seat Award
---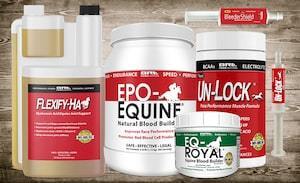 Top trainers, owners and competitors rely on BRL Equine products to help their horses perform at their very best. You can get the same great results! Our all-natural equine nutritional supplements really work... guaranteed or your money back!