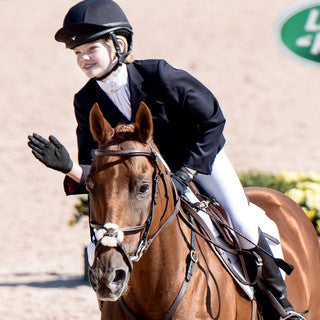 Young Rider Attributes Flawless Performance to BRL Supplements
Dallas teen Chloe Johnson and her thoroughbred DaVinci (a.k.a., Vinny) are a strong team when it comes to competing in 3-day events.
Chloe, 13, says that Vinny needed very little time to feel the benefits of EQ-Royal and Un-Lock. After his first use of the products in early June, followed by a 12-hour drive from Dallas to the Colorado Horse Park 3-Day Event in Parker, CO, and a 6,000-foot elevation change, Chloe says with obvious pride that "he competed the next day with very little effort. He was so pumped up after the cross-country event we thought he wanted to do it all over again!"
Chloe and her family discovered BRL while attending the Kentucky 3-Day event. 
"We were impressed upon learning more about the products from their representative," explains Christian Johnson, Chloe's father. "We were curious as to the positive results Vinny may display after being introduced."
Chloe says Vinny "majorly benefitted from EQ-Royal and Un-Lock, and we are excited to continue using them. I could feel the difference in him on cross-country and he performed a flawless dressage test his second day there. His double clear stadium round and excitement afterward would probably not have happened without the supplements."
Chloe, who started riding at age 5, attributes her initial interest in horses to "my uncle who lives in Colorado and has several horses. He taught me to appreciate the bond between the horse and rider, the respect both horse and rider must have for each other and the non-judgmental environment of the barn."
In 2016 Chloe took her passion for riding to a new level, when she and Vinny took third place in the Broadstone Junior Beginner Novice 14 and Under division at the USEA American Eventing Championships (AECs) at Tryon Horse Park in North Carolina.
When she's not training with Vinny, Chloe also enjoys  agility training with her dogs Heinz and Pepper, adventures with friends, creating and building things (most recently a treehouse), skiing, rafting and swimming.
Chloe is now finishing up 7th grade and training to compete in August in the AEC Junior Novice division, but her ambitions for herself and Vinny don't stop there.
"I would like to compete at the AECs in the Training Division, and grow to love the sport even more through our relationship," she says. "In general, I would like to go through the Advanced Division by the time I am 18 and go to the Kentucky 3-Day Event by the time I am 25."
With EQ-Royal and Un-Lock helping to fuel a determination beyond her years, Chloe is seems fully equipped to realize her goals.
Accomplishments:
2016 Third Place, AEC Beginner Novice Division

2016 North Texas Top Junior Beginner Novice Horse and Rider

2016 National 4th Place Rider, Beginner Novice Division

2016 National 5th Place Horse, Beginner Novice Division

 2016 Top Thoroughbred Horse, AEC Beginner Novice Division, American Eventing Championships

2016 Top OTTB, AEC Beginner Novice Division, Jockey Club Recognition 
---
Top trainers, owners and competitors rely on BRL Equine products to help their horses perform at their very best. You can get the same great results! Our all-natural equine nutritional supplements really work... guaranteed or your money back!