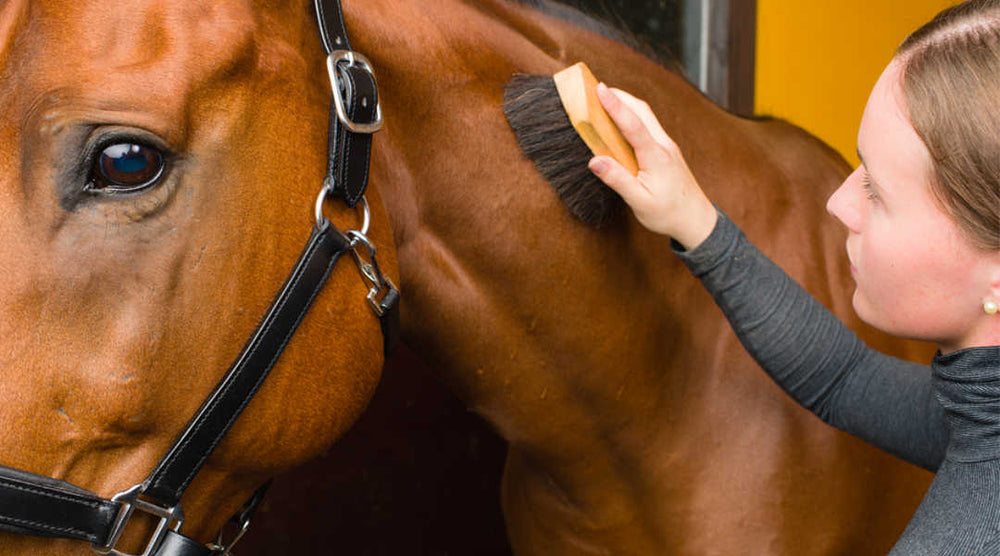 Regular grooming is essential, but who says you can't have fun with it?
Trying new ways to groom can benefit you and your horse. Not only is it a great bonding experience, you might find things that work better, discover safer ingredients and save a buck, too. 
Grooming can:
Remove excess dirt and debris
Make your equine friend show-worthy and shiny
Reveal injuries and ailments.
Grooming contributes to a healthier horse, and maybe even a healthier you. By maintaining daily contact, you can relax — knowing your horse is happy and healthy.
Other Uses for Your Basic Grooming Tools
If you've completed "Grooming 101," then you know all the basic tools and how to use them. But here are a few tricks to get even more use out of those grooming tools:
Curry comb: A rubber one is a great body scrubber during bath time. Use a metal comb to remove hair from blankets and other brushes.
Basic body brush: Yes it's great for removing excess dirt, but some professional groomers say that good old elbow grease is the best way to get a shine on a clean horse. So, make sure your brush soft and clean for the best shine ever!
Tail/mane brush or comb: These are great for tangles, but if you're preparing for a show, don't use them. Instead, use your fingers to prevent damage. It's easy when hair is clean and conditioned.
Shampoo: Don't shampoo too often. Too much bathing can strip the hair of essential oils, causing dryness and reducing shine.
Try this easy, all-natural method for a clean, shiny horse: 
Using a brush, remove all excess dirt and debris from the body, mane and tail. 
Fill a spray bottle three-quarters full with organic apple cider vinegar, and then fill to the top with distilled water. Shake well. 
Spray on your horse one section at a time. 
Brush each section vigorously with a clean brush.
Using the above method also cuts down on flies, since vinegar is a natural fly repellant.
Easy and smart! 
---
Top trainers, owners and competitors rely on BRL Equine products to help their horses perform at their very best. You can get the same great results! Our all-natural equine nutritional supplements really work... guaranteed or your money back!