For years, equestrians have measured the quality and effectiveness of equine joint supplements by the presence of glucosamine and chondroitin sulfate in their ingredients. These ingredients have been widely accepted as essential to joint health, but there's little evidence of their effectiveness. When designing Flexify-HA, BRL Equine scientists opted to leave these ingredients out, focusing instead on scientifically proven elements. Here's why.
Understanding the Issues with Glucosamine and Chondroitin Sulfate
Your horse's body produces glucosamine, which is a sugar compound. Glucosamine is found in many components of your horse's body, including in his joint cartilage. According to Dr. David Ramey, DVM, glucosamine isn't a required element of cartilage production. While some studies have found that glucosamine has a beneficial effect on cartilage cells, he notes that the studies focused on levels that you can't achieve by feeding a joint supplement to horses. The concentrations used in the studies were between 200 and 2,000 times higher than the amount that could be fed in a joint supplement.
Chondroitin sulfate, a sugar molecule, is also contained within your horse's joint cartilage, bones, tendons and ligaments. Chondroitin is not well-absorbed, and Dr. Ramey questions whether horses absorb oral chondroitin sulfate at all. He notes that studies on humans who take chondroitin sulfate found that their blood levels didn't change, meaning that the supplement couldn't directly affect joints. Further complicating the issue is the fact that the chondroitin contained in horse joint supplements comes from different animal sources, including chickens and cows. This means that the makeup of the chondroitin can vary, which also affects its absorption.
Human Evidence
While humans and horses process joint supplements and their ingredients differently, human studies add uncertainty to the effectiveness of glucosamine and chondroitin. The National Institutes of Health performed a Glucosamine/Chondroitin Arthritis Intervention Trial to assess how effective these ingredients are when managing osteoarthritis pain. The study participants who experienced mild pain saw no significant improvement when taking glucosamine and chondroitin. Participants who had moderate to severe pain saw only limited improvements.
A 2010 meta-analysis of 3,800 patients from 10 randomized trials found that neither chondroitin nor glucosamine provided better results than the trials' placebo. Another 2017 study assessed the effectiveness of glucosamine and chondroitin when treating participants with knee pain. The study found that glucosamine and chondroitin did not lead to any better results than the participants experienced with the placebo.
The Trouble with Equine Studies
Many joint supplement manufacturers tout studies that have proven the ingredients in their supplements — particularly glucosamine and chondroitin — to be effective. But how reliable are those studies?
A review of in vivo studies on glucosamine's effects on equine joint disease notes that — while glucosamine was reportedly first used for horses in the mid-1980s — the first studies of its effectiveness only began to emerge in 1992. Since 1992, 15 papers about glucosamine have been published, but those studies often include little evidence of its effectiveness. Often, manufacturers of products that include glucosamine invest in the research, which leads to conflicts of interest and questionable results.
This in-vivo study established quality scores for each paper, requiring that a paper achieve a score of at least 60% to be considered reliable. Only three of the 15 papers met that minimum quality requirement. These results indicate the need for new, reliable research on the effectiveness of these joint supplement ingredients.
BRL Equine's Approach
Given the questionable nature of glucosamine and chondroitin's effectiveness in horses, BRL Equine opted to go another route. Flexify-HA's formulation includes ingredients backed by substantial, authoritative scientific research. We're confident that our formula of hyaluronic acid, MSM and Vitamin C not only delivers quality and effective ingredients, but that it delivers them in optimal amounts to maximize effectiveness.
We'll stand behind that belief with our 90-Day Money-Back Guarantee. Try Flexify-HA for 90 days. If you aren't impressed with the results, we'll give you your money back – guaranteed.
---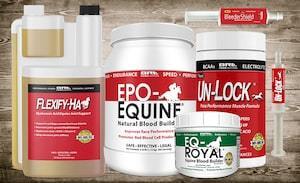 Top trainers, owners and competitors rely on BRL Equine products to help their horses perform at their very best. You can get the same great results! Our all-natural equine nutritional supplements really work... guaranteed or your money back!