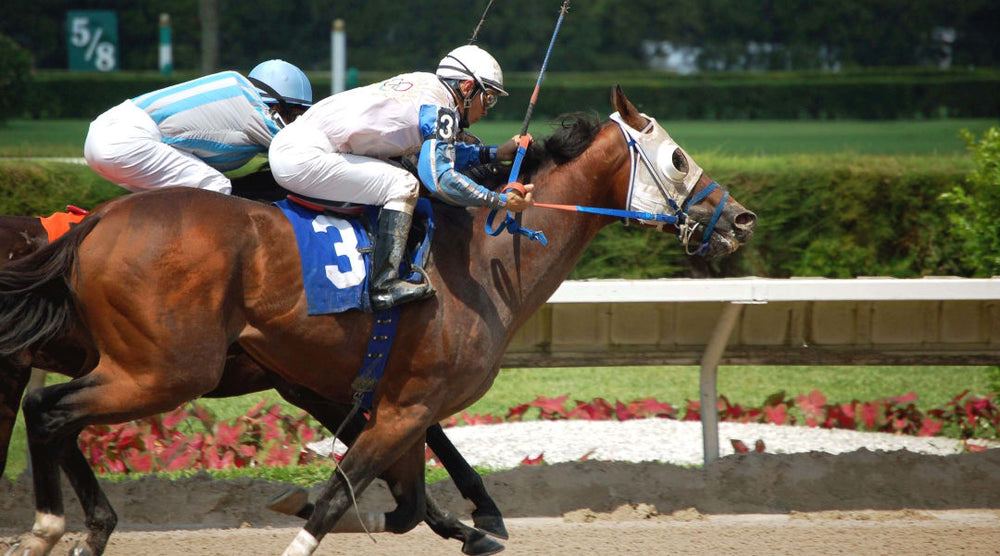 With an upcoming ban on Lasix at many racetracks, racehorse owners and trainers need to consider alternative ways to prevent bleeding in racehorses. With no medications allowed on race day, this could be a challenge, but BleederShield is an ideal drug-free — yet effective — solution.
Major Tracks Phasing Out Lasix
Given the recent racehorse deaths at Santa Anita and the public response, Santa Anita and Golden Gate Fields (both owned by the Stronach Group) are phasing out the use of Lasix. Currently the tracks allow horses to be treated with Lasix on race day at 50% of its previously approved levels. As of 2020, 2-year-olds will be required to race without medication. The tracks have also increased their bans on NSAIDS, joint injections, shockwave therapy and anabolic steroids.
Other tracks are following suit. The hosting tracks of the Triple Crown races will ban the use of Lasix within 24 hours of racing, beginning in 2020. The 2021 Triple Crown will be run under those new medication rules.
It's likely that we'll see more tracks adopt a similar restriction of Lasix, which means if you have a horse that bleeds, it's time to find an alternative.
The Lasix Alternative: BleederShield
The Lasix ban means that countless trainers will be left seeking alternative ways to manage bleeders. Race-day solutions must now be non-medicinal, but if trainers can't find an effective solution, horses who bleed may be banned from racing. This could be a financially devastating consequence for trainers and owners, alike.
That's why we created BleederShield.
BleederShield is a natural, safe and effective bleeding remedy — and perhaps most important, it's 100% drug-free and will not test. That means you can safely use BleederShield on racehorses in training and on race day while still adhering to these new race regulations.
Administering BleederShield before races or events helps to reduce bleeding while also promoting repair of EIPH-damaged lungs. The formula supports your horse's lungs and blood vessels during the stress of a race and reduces the risk of a horse suffering from EIPH. Plus, it has none of the side effects of medications.
BleederShield is an effective solution to bleeding in racehorses and performance horses, and it's completely legal under the new Lasix ban. It could help to keep horses who are bleeders racing, whereas they might otherwise be banned.
There's also science behind BleederShield. The active ingredient, Yunnan Baiyao, has been proven to help reduce bleeding in animals by a study performed at the University of Minnesota College of Veterinary Medicine. During the study, researchers reported that Yunnan Baiyao significantly reduced bleeding time and was effective at minimizing blood loss in horses.
With our 90-day Money-Back Guarantee, you can purchase this premium supplement with confidence. If you're not happy with the results, just return the product for a full refund, even if you've used it all.
Order BleederShield today and see what it can do for your racehorses. Be prepared for the Lasix ban before it's in full effect.
---
Top trainers, owners and competitors rely on BRL Equine products to help their horses perform at their very best. You can get the same great results! Our all-natural equine nutritional supplements really work... guaranteed or your money back!