EPO-EQUINE Testimonials
We use EPO-EQUINE on our horses and get excellent results. We have faith in this product and will continue using it.*
— David Morton, Owner of Stoneriggs Mystery – 2015 Horse of the Year (Wilma Morton, trainer)
Mystery turned in consistent performances and won the Billy Williams FFA, Pacer of the Year, the BHRC European Pacing Classic and was "the Big Gun" of 2015 (sponsored by Standardbred Horsesales, Harrisburg USA,[WHAT STATE?). He was also top horse in 2014 and joint leading horse with Rewrite History for 2015.
We have had excellent results since using EPO-EQUINE and find when having regular blood test that our horses red blood cell counts are consistently high. We have used this product for over 2 years now and have no reason to change this winning combination.*
— Mick and Sheelagh Lord, Owners of Rhyds Art – Winner, Breeder Crown, UK and Ireland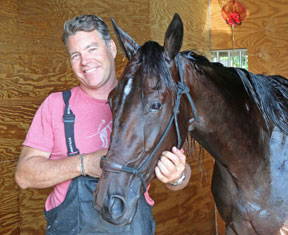 I have found EPO-EQUINE to be a reliable and natural way to help my horses recover faster after strenuous work. It keeps them energized and feeling good for racing. I noticed a big difference in energy levels in less than two weeks. Finally, a worthwhile supplement. — Brett Bittle, Trainer for Muscle Diamond
We have a nice mare that we decided to start on EPO-EQUINE. Three weeks later, she calmly walked up to compete and as she came down the alley and went around the first barrell, she had a stride you would not believe. She just reached out like she never did before. I then took her off EPO-EQUINE because I wanted to see if it was really your product, and she was not as responsive. We started her back and I will tell you when you ask her to go — you better hold on.* — Charles Des Angles and Maria Blaize, MS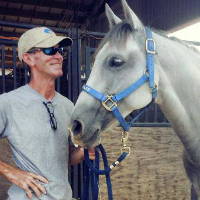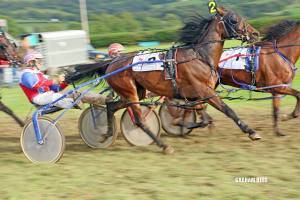 We use this product on most of our horses and find that it keeps their immune system right and blood levels remain high.* — Theresa and Alan Haythornthwaite – Lead trainer and Driver
(Photo: Frisco Frisk winning the 3-Year-Old Dragoness at Tregaron
I have had great success with your product. One of my horses, Stoneriggs Banner, won Scottish Harness Racing Horse of the Year for 2013. There has been a dramatic improvement in him since using your product so I have just ordered another 12 jars. I thought you would appreciate feedback on the effectiveness of the product and thank you. — Willie Moore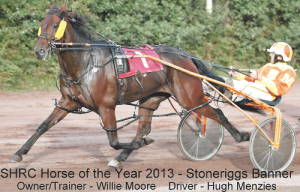 Our horses have been batting 450 for four months now. You know how in baseball, batting 350 is a big deal? Well, since trying EPO-EQUINE, our horses have been batting 450 with steady wins. One of my horses went up the ladder like crazy. He ran the fastest mile of his life, and he went from a $4,000 claiming race to win an $8,000 claiming race to a $20,000 claiming race. The results are all there in the USTA and Standardbred Canada records. Plus, recovery has improved. The horses used to be sluggish the day after a race, giving me the attitude of "Don't bother me; I'm sleeping." But these days, they eat good after races and they're fired up in the stall the next day. Imagine seeing results like this after a 47-year career in harness racing. I'm using this product with my whole team. Give it a try and see what happens for you.* — Norm Desserault 
I have been selling BRL products for close to 5 years, with repeat orders from my clients — who mostly wish to remain anonymous. My sales have been mostly to the harness-racing fraternity, but recently I have broken into the thoroughbred market, with some pleasant results.
One thoroughbred trainer wished to test EPO-EQUINE on five of his horses before placing a firm order. He had two different veterinary practices testing the trial horses' blood levels on a weekly basis.
The results were staggering, and in order not to contravene the strict rules of racing in the U.K. and Ireland, it was extremely important to ascertain there was no possibility of a positive test using EPO-EQUINE. Four of the horses trialing the product consequently went on to win, and the fifth horse showed immense improvement. This trainer placed a large order to put his whole stable on EPO-EQUINE.*
— Dave Wilson, Owner of Dave Wilson Harness – Sole BRL Equine Distributor for Europe
We are looking for agents for certain countries in Europe. You can apply by contacting Dave Wilson Harness at info@davewilsonharness.com or visit his website for more information.
EPO-EQUINE keeps red blood cells and energy levels at a good pace for racing and training. Our training team gives the formula a big thumbs up. We've seen that our horses are maintaining a good weight.
I'd tell anyone to give it a try because it keeps the horses' red blood cells and energy level at a good place for racing and training.* — Steve Margolis, Top Thoroughbred Trainer – Margolis Racing Stables